Spanish Student Workbooks
The student workbooks are an important part of our Spanish Elementary Curriculum. They tie-in seamlessly with each lesson, with fun and varied worksheets that allow students to read and write what they have learned in the classroom, keeping Spanish learning alive inside or outside the classroom. It is such a relief to busy teachers when their students have our bound Spanish Student Workbooks where all the assignments are in one place and in order.
As a guideline, students should spend approximately three 10 – 15 minute sessions per week doing the worksheets. Frequent short sessions are more effective for vocabulary retention than infrequent longer sessions.  Even if you don't know Spanish, parental involvement is important! Be interested and involved in what your child is learning.
We teach students of mixed age groups. If the workbook is too challenging for your child, don't worry! Have your child complete the worksheets to the best of his/her ability or go over them orally with your child and initial them. If neither of these are viable options, let the teacher know and have the workbook serve the purpose of showing you what your child is learning in class.
Student Workbooks are under copyright and are not reproducible.
NEW in 2014!! All Workbooks include the song lyrics in Spanish and English!!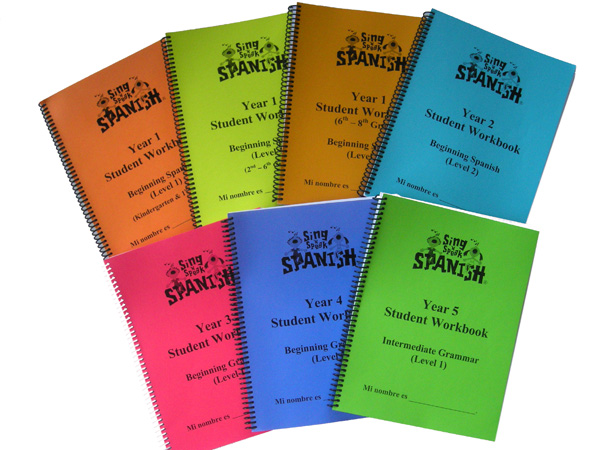 Year 1 (K-1) Spanish Student Workbooks ORANGE (93 pages)
Download a sample of Year 1 Workbook (orange, sample 1)
Download a sample of Year 1 Workbook (orange, sample 2)
Year 1 (2-5) Spanish Student Workbooks YELLOW  (90 pages)
Download a sample of Year 1 Workbook (yellow, sample 1)
Download a sample of Year 1 Workbook (yellow, sample 2)
Year 1 (6-8) Spanish Student Workbooks GOLD (110 pages)
Download a sample of Year 1 Workbook (gold, sample 1)
Download a sample of Year 1 Workbook (gold, sample 2)
Year 2 Spanish Student Workbooks BLUE (97 pages)
Download a sample of Year 2 Workbook(blue, sample 1)
Download a sample of Year 2 Workbook (blue, sample 2)
Year 3 Spanish Student Workbooks RED (98 pages)
Download a sample of Year 3 Workbook (red, sample 1)
Download a sample of Year 3 Workbook (red, sample 2)
Year 4 Spanish Student Workbooks PURPLE  (106 pages)
Download a sample of Year 4 Workbook (purple, sample 1)
Download a sample of Year 4 Workbook (purple, sample 2)
Year 5 Spanish Student Workbooks GREEN (93 pages)
Download a sample of Year 5 Workbook (green, sample 1)
Download a sample of Year 5 Workbook (green, sample 2)