Spanish Student Workbooks
The workbooks are an important part of our Spanish Elementary Curriculum. They tie-in seamlessly with each lesson, with fun and varied worksheets that allow students to read and write what they have learned in the classroom, keeping Spanish learning alive inside or outside the classroom. It is such a relief to busy teachers when their students have our bound Spanish Student Workbooks where all the assignments are in one place and in order.
Student Workbooks are under copyright and are not reproducible.
NEW in 2014!! All Workbooks include the song lyrics in Spanish and English!!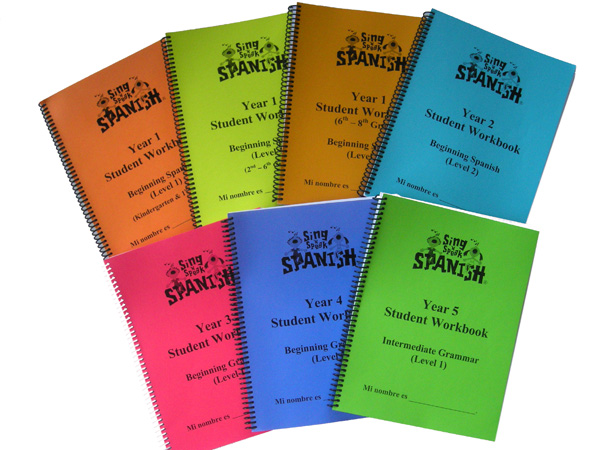 Year 1 (K-1) Spanish Student Workbooks ORANGE (93 pages)
Download a sample of Year 1 Workbook (orange, sample 1)
Download a sample of Year 1 Workbook (orange, sample 2)
Year 1 (2-5) Spanish Student Workbooks YELLOW  (90 pages)
Download a sample of Year 1 Workbook (yellow, sample 1)
Download a sample of Year 1 Workbook (yellow, sample 2)
Year 1 (6-8) Spanish Student Workbooks GOLD (110 pages)
Download a sample of Year 1 Workbook (gold, sample 1)
Download a sample of Year 1 Workbook (gold, sample 2)
Year 2 Spanish Student Workbooks BLUE (97 pages)
Download a sample of Year 2 Workbook(blue, sample 1)
Download a sample of Year 2 Workbook (blue, sample 2)
Year 3 Spanish Student Workbooks RED (98 pages)
Download a sample of Year 3 Workbook (red, sample 1)
Download a sample of Year 3 Workbook (red, sample 2)
Year 4 Spanish Student Workbooks PURPLE  (106 pages)
Download a sample of Year 4 Workbook (purple, sample 1)
Download a sample of Year 4 Workbook (purple, sample 2)
Year 5 Spanish Student Workbooks GREEN (93 pages)
Download a sample of Year 5 Workbook (green, sample 1)
Download a sample of Year 5 Workbook (green, sample 2)