Spanish Translation Sensation Game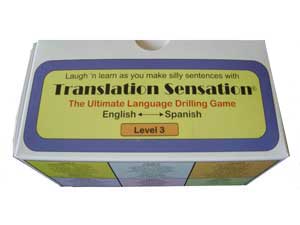 Laugh and learn as you make silly sentences with Translation Sensation, our Spanish translation game for English or Spanish learners ages 7 to adult. It is humorous, easy-to-learn, and challenging.  Refreshingly, it is a not a digital game, so people actually have to interact with one another!
***Click here to see a short presentation about the Translation Sensation Game and how to play it. Or read the synopsis on this page to get a general overview of the game.
Players need some exposure to the target language to play the games.  Students play the game to drill on the vocabulary and grammar they learned when they completed one of our Spanish courses. The object of the game is to obtain the highest score by correctly translating words or phrases on three separate cards from Spanish to English (easier) or English to Spanish (harder) to form complete humorous sentences. Each game contains about 180 double-sided playing cards, including bonus cards that quiz students on additional important vocabulary.  The box of cards includes clear directions on how to play in both English and Spanish.  Levels 1, 2, and 3 games drill on the vocabulary and grammar taught in Years 1, 2, and 3 of the Sing 'n Speak Spanish program, respectively.
One thing I love about this Spanish translation game is its versatility.
A motivated student can play the game solo as a self-drilling game.
It can be played with 2 – 4 individual players.
Six to 8 players can play in teams of 2 players each.
Classroom teachers can use it to practice writing in the classroom. Students write the translated sentences and earn points for correct words and spelling.
Players with different abilities can play together but use cards from different levels of the game.  Children love to compete with their parents!
The game can be translated from English to Spanish or Spanish to English, depending on the abilities of the players.
The game is also perfect for Spanish speakers who are learning English.
"My 10, 15, and 18 year old siblings and I enjoy playing Translation Sensation. What I noticed is that each child, no matter how advanced, laughed and learned something by choosing a level most appropriate to him or her. Three of us played, each with our own box of cards. It was fun! For me personally, I found myself sitting alone playing Level 1 and 45 minutes quickly passed."
Parent, Jerabek Elementary, San Diego
To top it off, it is so affordable!  We sell these games for just $24.95!
Below are examples of play from Level 1 and Level 2 games followed by a chart showing the general topics covered in each game: